Germany
Since 2006, German artist Verena Stenke and Venetian-born artist and writer Andrea Pagnes have been working together as VestAndPage and gained international recognition in the fields of performance art, performance-based film, writing, publishing, and collective performance operas and temporary artistic community projects. For over a decade, VestAndPage have been exploring performance art and filmmaking as a phenomena of 'thin places' through their collaborative creative practice, as well as through theoretical artistic research and curatorial projects. They have produced their body-based art among others under Antarctic glaciers, at the Himalaya foothills, in the vastness of Tierra del Fuego, in abandoned factories, Russian enclaves, or inside the dark depths of Southern German prehistoric caves systems. Their works – a celebration of life – have been presented in museums, galleries, theatres, cinemas and a variety of sites worldwide. Their theoretical and poetic writings have been extensively published and translated for international readers. They have authored and produced numerous video art works, experimental shorts and feature-length films based on performance art. They are lecturers at the Master of Performance Practice in
Arnhem (NL), as well as the founders and directors of the Venice International Performance Art Week (IT).

Their collaborative practice has roots in contemporary visual and conceptual art; Applied and Oriental theatre; literature, philosophy and political sciences. Working with material from a personal and genetic library accessed through insightful thinking and spiritual practices, VestAndPage's works are accessible by a wide audience, allowing viewers to address realistic contents through fresh iconography in an otherworldly surrounding. VestAndPage's art practice is contextual and situation-responsive, conceived psycho-geographically in response to natural surroundings, social contexts, historical sites and architectures. They usually work in 'thin places', in which the borders between spaces and times are the most fragile – liminal spaces in which the worlds come closest. In their works, they move between the unseen and the unforeseen, the unsaid, the forgotten and the repressed. They are devoted to a poetic approach in experimental, personal filmmaking based on performance art in extreme natural and urban environments, questioning the perception of reality and relationship, and how we process and store information.

They are currently presenting their performance text on tuberculosis 1 9 Monologue. They are in the post-production of STRATA, their fifth performance-based film, a collaborative and interdisciplinary project on Deep Time; as well as momentum, a series of videos in which they host conversations under existential focus with people from the arts, culture and science.

They are the recipients of project and international artist-in-residency grants, as well as the Robert-Schuman-Silver Medal for European Unity (1990), Best Film Award (Berlin Independent Film Festival, 2018), Treviglio Video Poetry Prize (2011), Culture Prize of the City of Nassau (2011), Storie Literary Prize (2008), ArtKontakt Prize (2007), Windsor&Newton Millennium Painting Award (2000).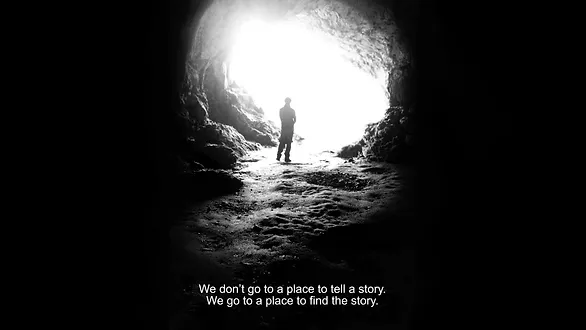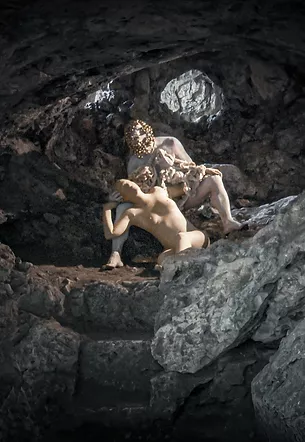 Link to project website with images: https://www.vest-and-page.de/strata
"STRATA" is the performance-based project by the duo VestAndPage dealing with Deep Time and layers of memory in human history and the geological. In international collaborations and interdisciplinary processes, performance art, theatre, dance, visual art, and music meet science in human prehistory caves.
The production sites for this are the Swabian Jura caves, used by Ice Age humans for shelter about 33.000 to 43.000 years ago. The project brings together artists and researchers from the humanities, social and earth sciences to investigate the human body as a place in continuity with the geological. Body artists illuminate concepts of time and human and ecological intelligence in caves through
performances for the camera. These body images –poetic and political at the same time– are nourished by documentary elements in conversations with specialists from archaeology, geology, speleology, art history, philosophy, and time psychology. Here, progress is imagined through cultural exchange and cooperation. Growing complexity is an evolutionary consequence, and plurality, the non-binary, and the social inclusion of diversity are seen as necessary prerequisites to serve the understanding and further development of life.
Intending to open up a contemporary discourse on the past, the project illuminates the challenges of the present's central social issues from artistic and academic perspectives. Questions are whether the geological separation between nature and culture can be overcome by changing bodies' views and how we can give visibility to deposits in the depths of the human being, in the earth and human history, and society and the psyche. We are concerned with strengthening collective and ecological intelligence, contributing to understanding complex systems, and driving significant change through artistic production. The project is also the critical confrontation with romantically distorted images of nature and naturalness. including the unknown, the new, the complex, the unexpected and change and requiring a dismantling of consolidated narratives and aesthetics. To draft a possible design of a future, it is fundamental to work together in an interdisciplinary manner between people, and branches of the arts and sciences. The joint production process involves remembering and imagining real and possible worlds while raising awareness of geological, political and social past and future. The participating renowned artists embody therein the fundamental principle of diversity, which is essential to the discourse; they are knowingly representative bodies that artistically reflect and put into discussion the layers that construct contemporary societies.

A VestAndPage production, Germany, 2021
Supported by Fonds Darstellende Künste with funds from the Federal Government Commissioner of Culture and the Media.
Realized in collaboration with Museum für Urgeschichte Blaubeuren, Museum Ulm, Cojote Outdoor, University of Exeter Research Network Rock/Body: Performative Interfaces between the geologic and the body, EntrAxis e.V., A.P.S. Studio Contemporaneo E.T.S., Live Arts Cultures.
With the support of UNESCO World Heritage: Caves and Ice Age Art of the Swabian Alb, Landesamt für Denkmalpflege BadenWürttemberg, ForstBW, Stadt Blaubeuren, Stadt Schelklingen, Stadt Grabenstetten, Stadt Asselfingen, Museumsgesellschaft Schelklingen, Urgeschichte Hautnah, Tress Gastronomie/Wimsener Höhle.
Artists
Aldo Aliprandi (Sound), Marianna Andrigo (Movement), Marilyn Arsem (Video & Text), Andreas Bauer Kanabas (Classical bass), Nathalie Anguezomo Mba Bikoro (Performance), Giorgia De Santi (Performance), daz disley (Sound), Francesca Fini (Performance & Digital animation), Nicola Fornoni (Performance), La Saúla / La Pocha Nostra (Performance), Stephan Knies (Violin), Fenia Kotsopoulou (Dance,
Visuals), Boris Nieslony (Performance), Ralf Peters (Voice art), Sara Simeoni (Dance), Marcel Sparmann (Performance), VestAndPage (Performance), Susanne Weins (Voice art), and more.
Scientific contributors
Prof Nicolas Conard (Archaeology and prehistory), Kurt Wehrberger M.A. (Archaeology), Dr Stefanie Kölbl (Archaeology), Dr Bernhard Stumpfhaus (Art history), Prof Timothy Morton (Philosophy), Prof Nigel Clarke (Human Geography), Dr João Florêncio (History of Modern and Contemporary Art and Visual Culture), Dr Luke Jones (Time psychology), and more.
PLEASE NOTE: The project is currently in post-production as a feature film to be presented in summer 2022. Before that date, performance documentation is available in form of photography to be exhibited (see project website).